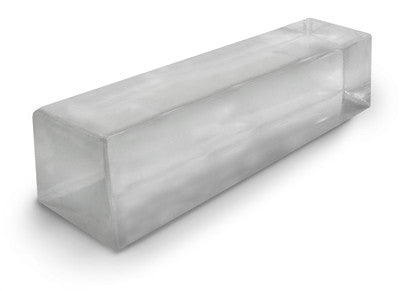 Clear Ballistics
Clear Ballistics 10% Shooter Block (20x6x6)
Our Shooter Block is perfect for terminal ballistics testing for all handguns and lower powered rifles where projectile penetrations are less than 20 inches. The Shooter Block meets FBI ballistics testing protocol 100%, and completely simulates the testing performed by the FBI. The Shooter Gelatin Block is the four inches longer than the size that the FBI and other law enforcement agencies use for terminal ballistics testing and data. Ballistic Gelatin Shooter Block size is perfectly for hunters, hobbyist, semi-professional, and professional shooters, all types of law enforcement agencies.
The Ballistic Gelatin Shooter Block's main purpose is to give you the shooter 20 inches ballistic gelatin to shoot into while maintaining the same portability as the Ballistic Gelatin FBI Block. The Ballistic Gelatin Shooter Block comes with a 36 inches of shooting face and weighs in at 22.5 lbs. and increase of 5.3 lbs. more than the Ballistic Gelatin FBI Block.
Size Standard: 20 inches
in length, 6 inches in width, 6 inches in height (20L X 6W X 6H), Weight: 22.5 LBS : 720 cubic inches.
---
Share this Product
---
More from this collection